Honestly though they kind of all blur together for me, never really been one for the slower pace of classical music.
So, been a while, you'd think with how many times I updated my sig that a lot has happened.  Oddly enough the pacing has sped up so I've been zooming through, preparing a Ground type (
) for my challenge of the Lumi-whatever gym.  With that said it's time to get the show on the road.  
, before I start, at the end of all this I have a question as I want some input over something I'm toying over.
Chapter 5: I've Been Waiting For This Day
Ah, Shalour City, home of a certain murderer.  Who said revenge doesn't taste good?  I reckon it'll taste might nice myself.
Upon entering the city I'm intercepted by a couple of the good ol Clingon Gang and informed I should head to the big ol tower in the middle of the town.  
Wow, I would never have guessed to go there!
I notice there's room to fish so I quickly throw in my line and grab another Pokemon from Wonder Trade.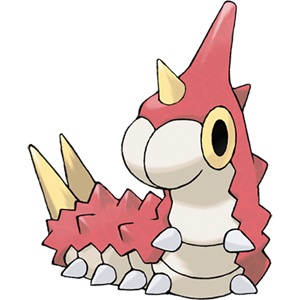 Wurmple the Wurmple!
I've been waiting for this day!  The fated encounter with
Caterpie
Wurmple we all knew was coming!
Safe to say this is getting boxed and ignored, it'll take too much time to raise for the fighting gym anyway.
Arriving at the Tower of Mastery the Clingon Gang assembles and we're lectured on Mega Evolution.
Alas!  There is only one bracelet available, the incompetents all decline.  All of them save one...
I would describe the battle, but honestly it'd be far simpler to say I had Honedge use Swords Dance and then swept her team.  
Yes, even the Absol, not that she's capable of using such a Pokemon properly.  
I'm then told that to actually gain the power I must also beat the Gym Leader.  Heh, how convenient.  
At this point I went off and trained some Pokemon up, specifically Honedge and Koffing, the result?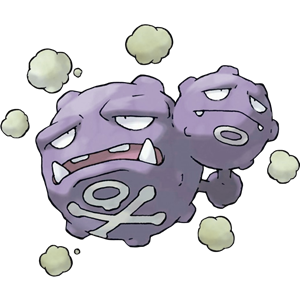 With that sorted I headed off to the Gym, with two ghost types and Weezing I felt fairly confident in an easy win.
I progressed through the gym, crushing a few trainers on the way, eventually reaching Korrina herself.
Payback time.
I'd originally planned to wall her with Weezing, unfortunately her team included a Meinfoo so I changed my plans fearing Psychic attacks.
I sent in Honedge, alas that was a bit broken as she had nothing to apparently hit it with.
I knocked out the Meinfoo, she sent in Machoke.  I sent in Weezing again, determined to have it do
something
in the battle.
Which it did, sort of, unfortunately it was getting a little worn out by repeated Rock Tombs so I switched back to Honedge for the finishing blow.
Her final Pokemon was something well known to me, a Hawlucha!  I stayed in and watched in horror as it Hone Claws'd!
Setting up a Swords Dance myself I watched as it... Hone Claws'd again.
And again...
Aaaaand again...
At this point I realized Hawlucha clearly had nothing to hit me with so I just put it out of its misery and won my badge.  
Korrina then informs me that to attain the power of Mega Evolution I am to ascend to the top of the Tower of Mastery.
I do just that, and there I find... Korrina...
Apparently those who seek the power need to earn it, so she's the test.  Before she can start one of her Lucario runs up to my side.
It has apparently decided to join forces.  And who could blame it, change is on the wind and I'm clearly the better trainer.  
This is it.  One vs one, Lucario vs Lucario.  
Okay, that's enough flowery nonesense, I knocked her Lucario out in two Power-Up Punches because mine is faster and won.  
Revenge complete!
It's at this point I remembered I'd forgotten to fish for a Pokemon before the second gym, so I head all the way back and get!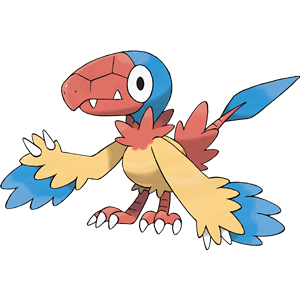 Archen the Archen!
Wow, where were you not ten minutes before this?  Suffice to say this thing is a potential monster if it lives long enough to evolve!
Moving on I head to the next route, having already caught a Pokemon there progress was swift and within ten minutes I had arrived at my next destination, Coumarine City!  
But before that, we have a new evolution people!  Presenting the most powerful Pokemon in the lands!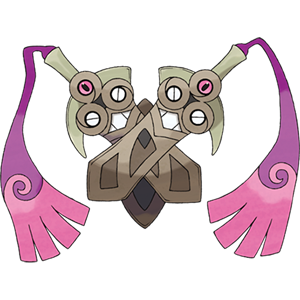 That's right, Honedge evolved in to
Doublade
!
Upon entering the city I get a call from a very annoying person, Serena my "rival" demands a battle and will await me outside the next gym.  
I head through the town, pick up a few nifty items and TMs, and reach the other side.  before taking her on however i nip in to the next route and bag my next Pokemon, a nice and powerful...
Noctowl the Noctowl
Again I ask, where were you not half an hour ago?  Still, with a grass gym up next and my recent acquisition of the TM Acrobatics...
Moving back to the city I head to the gym and take on my rival.  The entire battle was so uneventful I'm not even going to describe it beyond "the last time we thought, only even more one sided".
Heading in to the gym I find a nice surprise waiting for me, the type is grass!  Seizing the perfect opportunity I thrust Archen to the front of the party and teach it Acrobatics!
For those not in the know, Acrobatics is a base 55 flying type move, which means it gets a Same Type Attack Boost on Archen.  
That's not all, if the user isn't holding an item
its power is doubled
.  That's right, it turns in to a base 110 move!
I quickly move through the gym, Archen gaining levels the entire time, and arrive at the top to find the next leader!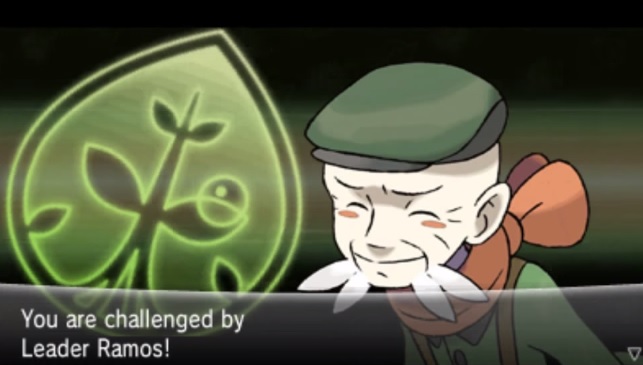 For a while I was worried I had overleveled at this point, and am relieved when he sends out his opening Jumpluff and find its level is bang on par with Archen.
Unfortunately I'd forgotten about Acrobatics, and promptly crushed his first two Pokemon with Archen alone, two levels off evolution now.
His final Pokemon scared me a little though, Gogoat.  Given Archen's ability making him useless if he loses more than half his health I switch to Doublade.
From there I simply do the usual, Swords Dance up and kill, thus claiming my fourth badge!
Finally done with cities for a while I move on to the desert, and soon wish I was still in the city.
As I walk I'm assaulted by Pokemon left and right, Pokemon that chase after you!  
I find my way out is barred due to a power outage in Lumiose, so double back and head for the Power Plant.
Just as well I soon discover, as I encounter a Team Flare Grunt!  
Dispatching him with ease I enter the Power Plant to find the place taken over by the Team.  I head on in to the main area.
There I am forced to fight grunt after grunt as I take a long way round, for they outright say they are buying time.
Ufortunately for them they provided fodder for two Pokemon to ascend to greater realms of power, presenting my TWO newest evolutions!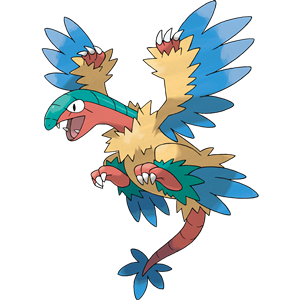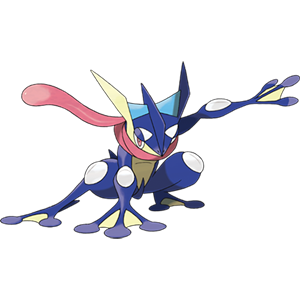 Archeops and Greninja!
With my two new power houses I finally reach the center, and am greeted by the personification of style!
Unfortunately for our first Team Flare admin his Pokemon were not up to the power of mine, and he is promptly washed away by BubbleAddict.
Up next we are challenged by a Team Flare member so important they got a name.
Unfortunately she lacked any real style, and falls to my team quicker than you can say "she has no true sense of style!"
Having finally routed Team Flare and getting power back on to Lumiose City I head back, and despite the annoying encounter I bear witness to the fruits of my labour.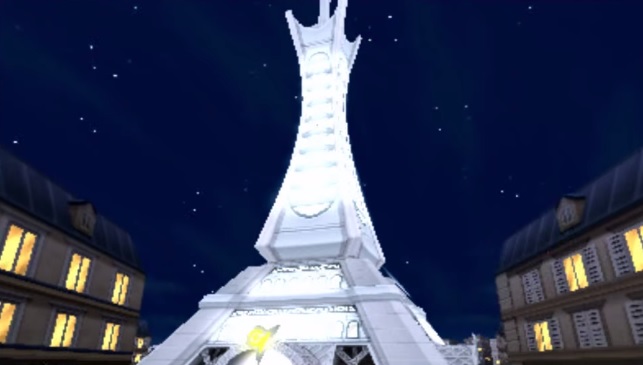 Before we end this chapter, I have one more thing to present, another two evolutions who I raised specifically for the next gym!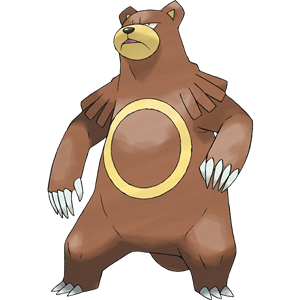 Diggersby and Ursaring!
: During the battle with Korrina atop the Tower of Mastery I recieved a Lucario, the question: what should I do with it?
I have several options, one is the obvious throw it on Wonder Trade for another Pokemon, but I'm unsure about doing this as I'm unsure whether to count it as part of Shalour City's encounter (which I already fished up), or not.
Why it would count: Tower of Mastery is considered a part of Shalour City on the town map.
Why it would not count: Tower of Mastery is considered its own location, complete with the Lucario saying it was obtained there and not in Shalour City (
).
I've been debating which way I should go with this and want some input before I make my decision as I'm in a rut and it might get me out of it.