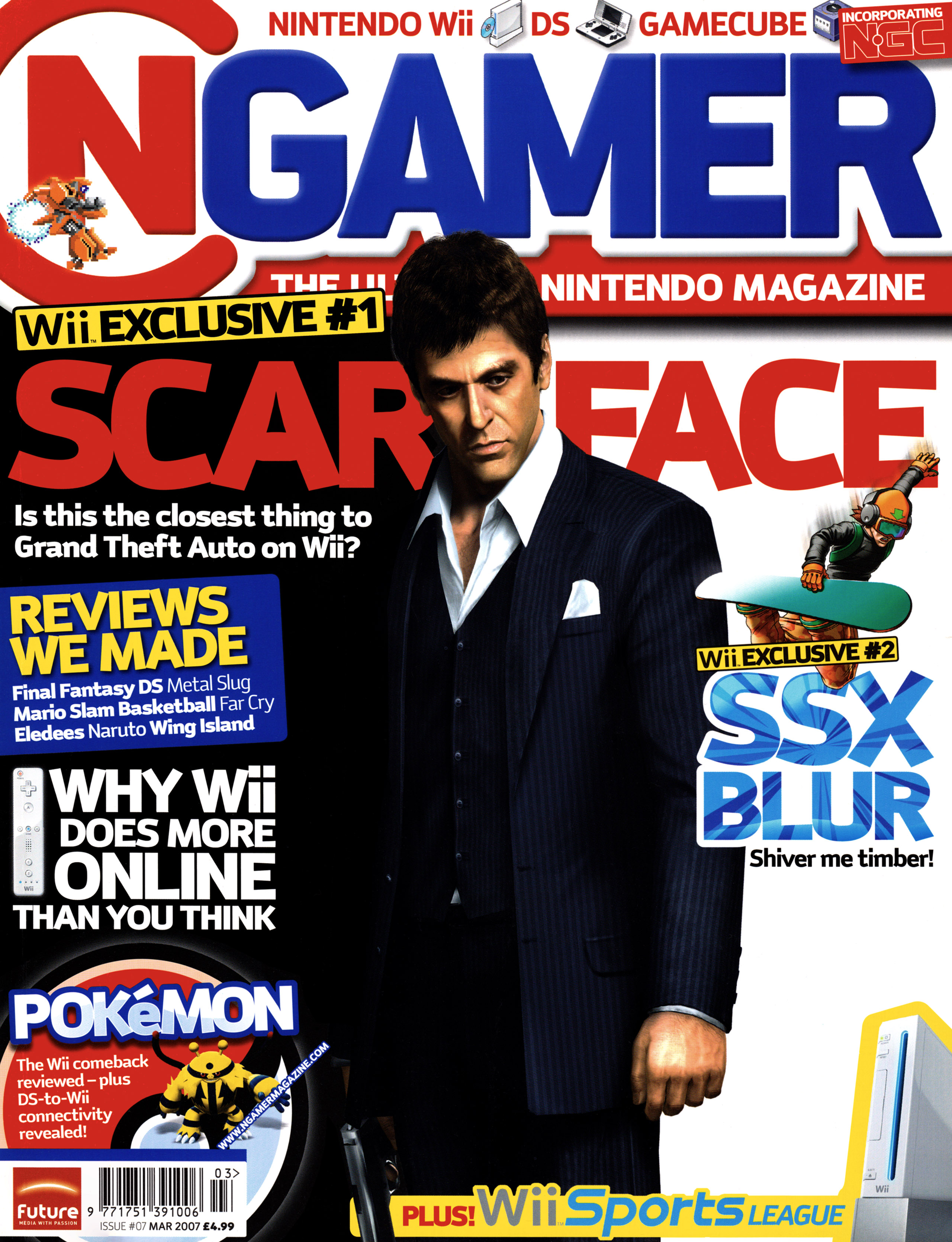 Issue 7 of NGamer is here! Remarkably, released on 31st January, this was the March 2007 issue.
"Scarface being on the Wii is like a foul-mouthed tramp lurching into a child's birthday party"
The focus this time 10 years ago was on Scarface, that slightly overrated ode to 80s excess starring Al Pacino playing Al Pacino on cocaine. There's a lot of PS2 shots used in the preview piece, but the main selling point was the controls and how motioning to chainsaw was considered rather edgy for a Nintendo platform. And this was years before MadWorld!
Also check the Kororinpa review below that slags off Monkey Ball - a genuine example of a classic videogame. It's very odd, especially given they considered Banana Blitz (not the best Monkey Ball) to be a game worth an 84% review score. Confusing message there.
Reviews
Pokemon Battle Revolution (Wii) - 70%
Eledees (Wii) - 82%
Full review by Mark Green:
Bleach (Wii) - 72%
Wing Island (Wii) - 57%
Kororinpa (Wii) - 81%
Full review by Chrissy Williams:
Metal Slug Anthology (Wii) - 78%
Necro-Nesia (Wii) - 48%
FarCry Vengeance (Wii) - 23%
Super Swing Golf Pangya (Wii) - 75%
Exite Truck (Wii) - 77%
Tomagotchi No Pika Pika Daitouryou! (Wii) - 45%
Crayon Shin-Chan (Wii) - 35%
Ennichi No Tatsujin (Wii) - 23%
My Frogger You Trials (DS) - 45%
Chicken Little: Ace in Action (Wii) - 69%
The Ant Bully (Wii) - 50%
Super Fruitfall (Wii) - 18%
SD Gundam Scad Hammers (Wii) - 65%
Final Fantasy III (DS) - 81%
Mario Slam Basketball (DS) - 69%
March of the Penguins (DS) - 11%
Arthur and the Invisibles (DS) - 59%
Rafa Nadal Tennis (DS) - 65%
FullMetal Alchemist (DS) - 40%
Mega Man Star Force (DS) - 52%
Dragon Quest Monstars: Joker (DS) - 72%
Chobobo And The Magic Picture book (DS) - 66%
Naruto: Shinobi Retsuden (DS) - 39%
Children of Mana (DS) - 65%
Magical Starsign (DS) - 70%
"Round-Up" Reviewsl
Monster Puzzle (DS) - 55%
Dino Master (DS) - 21%
MechAssault: Phantom War (DS) - 69%
Labyrinth (DS) - 53%
Xiaolin Showdown (DS) - 60%
Super Black Bass Fishing (DS) - 12%
Contact (DS) - 70%
New Zealand Story Revolution (DS) - 70%
Yu-Gi-Oh: Spirit Catcher (DS) - 60%