Have any of you enjoyed any board games recently?
I've been on a bit of a run myself, with Roll for the Galaxy, Everdell, and Brass Birmingham (unopened) picked up this year, and the beautiful Sleeping Gods on the way. We were due to get the expansions for Tapestry and Spirit Island, but those Christmas presents will turn into whenever the fuck we can see people again presents!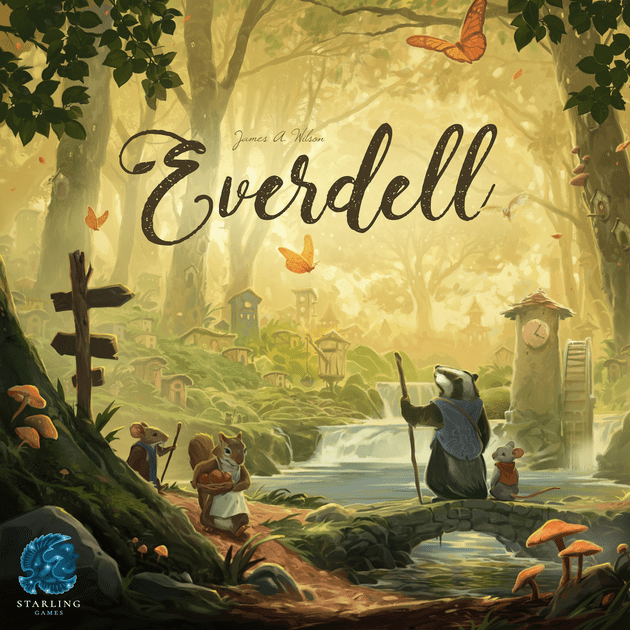 I'll start with recent stuff. For Valentine's Day I bought Everdell.
It's a picturesque worker placement game with a tableu building element. This gives it a nice twist above traditional worker placement games, which are often heavily focused on ruthless efficiency. You still need to play efficiently here, but the cards give the game a nice mix of things to build towards.
You see, each player is a woodland creature awkening from their winter hibernation, and it's your job to help build up a new woodland paradise as the game moves through its seasons. You'll need to place your workers strategically to earn resources, which in turn allow you to play cards. These cards represent your city, with critters and buildings alike, each of which gives you their own bonuses. So the game transitions from the clunky, put worker here get resources x and y, into a game of trying to make the most out of your hand and building synergies.
Each game randomises to some extent the resources you'll be able to gather, meaning food might be a premium in some games and pebbles in others. Although the object of the game is to score the most points by having the most valuable city at game's end, there are also varied bonus objectives to collect each game too. This makes each play varied enough to encourage players to experiment with different tactics.
So there's some depth to Everdell, but it's a pretty simple game to play at heart. You can find it for about £40-50 online, and I'd recommend it at that price. It's a 2-4 player game that seems to scale well at all player counts. Easy to setup, takes about 45 minutes to play, and there are plenty of decisions to make without it ever being too taxing.
Via Tabletop Simulator (Steam), I've tucked into a campaign of Pandemic Legacy with Andy, Jay and Kelly.
Legacy games are board games that have players attach stickers to the board, rip up cards, and play through a whole campaign over the course of many individual games. Regular Pandemic is a really slick co-op game that's great fun to solve with friends. It's an open-hand puzzle where you work with your teammates in a bid to cure various disease strains before too many outbreaks have occurred. I don't want to go into too much detail about it, but it has a very clever setup phase that ensures a really good tempo during play.
The legacy elements of Pandemic Legacy are working well. We're only a couple of games in but we've seen our share of twists with the traditional pandemic formula already, created new characters, and seen the state of our board deteriorate with repercussions for the next game. New elements are being added between each game (sometimes half way through a game), which is a really nice way of adding hints of extra complexity without it being overwhelming.
Coming from a video game background, I've always liked the idea of legacy games with campaigns, but I've also been a bit deterred by the idea of ripping things up (The board game itself costs £70). Happily, its mod over on TTS is free, and while the software is clunky, it's been a nice way to spend a few evenings. It seems like TTS will run on pretty much any machine (mac/PC), so if anybody has an interest in board games and fancies trying some remotely, then you could do far worse than TTS.
JayMoyles wrote:

Weirdly enough, ever since I've picked up the Jackbox games on Switch I've found that my family has played fewer and fewer board games as we're much more keen to bust the Switch out and have some fun times making stupid drawings or silly slogans.

The board game that I likely spent the most time playing was this bad boy:


Kelly's parents took that game down from their roof and left it with us. We gave it a go a while back and oh boy, can't remember it being great! I might feel differently if I had nostalgia for it though. I'll hear no bad words about Ram n' Slam.