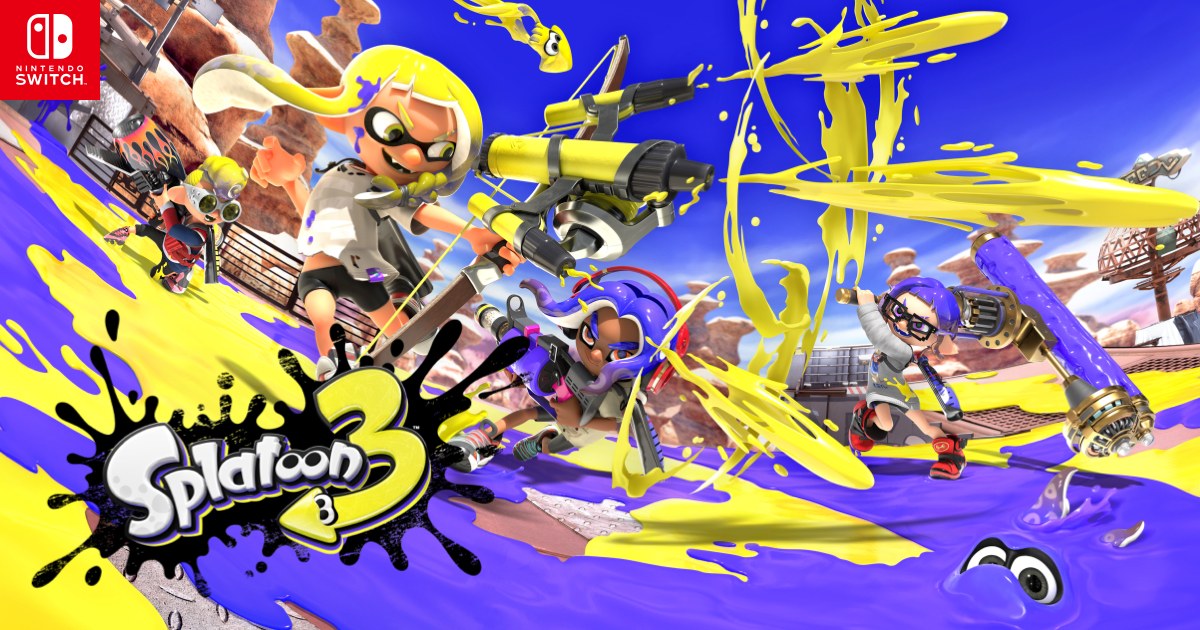 1st
ANNO: Mutationem NSO
Fairy Elements XBN
Food Truck Tycoon XBN
Murder on the Marine Express NSO
Ooblets XBN, NSO
Project Snaqe NSO
2nd
The Ascent: Cyber Edition PS5, PS4, Xbox
Jojo's Bizarre Adventure All-Star Battle PS5, PS4, Xbox, NS
The Last of Us Part I PS5
LEGO Brawls PS5, PS4, Xbox, NS
Made in Abyss PS4, NS
Prinny Presents NIS Classics Volume 3: La Pucelle: Ragnarök / Rhapsody: A Musical Adventure NS
South Park Fracture But Whole NS (CIB)
Super Bullet Break PS4, NS
Troupe NSO
6th
Biomutant PS5, Xbox
FIST - Forged In Shadow Torch PS5, PS4, NS
Road Redemption NS
Temtem PS5, XSX, NS
Train Sim World 3 PS5, PS4, Xbox
8th
Game Type DX XBN, NSO
Justice Sucks PSN
Mozart Requiem NS
Steel Rising PS5, XSX
White Day: A Labyrinth Named School PS5, NS, XBN
Wind of Shuriken XBN
9th
Alex + Steve 2 Pack Super Smash Bros. Series amiibo
DEEEER Simulator: Your Average Everyday Deer PS4, NS
NBA 2K23 PS5, PS4, XSX, ONE, NS
Nintendo Switch Pro Controller Splatoon 3 Edition
Puzzle Bobble 3D: Vacation Odyssey PS5, PS5
Splatoon 3 NS
13th
Alfred Hitchcock: Vertigo PS5, PS4, Xbox, NS
Isonzo: Deluxe Edition PS5, PS4, Xbox
Little Orpheus PSN
Metal: Hellsinger PSN, XBN
XIII PS5, Xbox, NS
14th
Anyone's Diary PSN
Inertial Drift : Twilight Rivals Edition PS5
SBK 22 PSN, XBN
16th
Arcadegeddon PS5, PS4, Xbox
Dungeons 3 NS
Fell Seal - Arbiters Mark PS4, NS, PC
Hidden Through Time: Definitive Edition PS4, NS
Last Beat Enhanced PSN
Loot Box Simulator - RPG Anime Girls NSO
RECOMPILE PS5
Trash Sailors PS4, NS
Undernauts: Labyrinth of Yomi PS5
Yuppie Psycho PS4, NS
20th
Amnesia Day One Edition Dual Pack NS
Amnesia: Later x Crowd NS
Amnesia: Memories NS
Construction Simulator PS5, PS4, Xbox
Soulstice PS5, XSX
Stray PS5 (Plus)
22nd
The DioField Chronicle PS5, PS4, Xbox, NS
No Place for Bravery NSO
OneShot: World Machine Edition XBN, NSO
Potion Permit PS5, PS4, NS
Session: Skate Sim PS5, PS4
SpiderHeck PSN
Train Life: A Railway Simulator PS5, PS4, Xbox, NS
23rd
Baldo: The Guardian Owls: Three Fairies Edition PS4, NS
Dragons: Legends of The Nine Realms PS5, PS4, Xbox, NS
Hidden Objects Collection Volume 3 NS
Piofiore: Episodio 1926 NS
Severed Steel PS5, PS4, Xbox, NS
Slaycation Paradise PS5, PS4, NS
Tee Time Golf NS
26th
Mortal Kombat: The 30th Anniversary Ultimate Bundle PS5, Xbox
27th
Hokko Life PS4, ONE, NS
Life in Willowdale: Farm Adventures PS4, NS
Life is Strange: Arcadia Bay Collection NS
My Universe: Pet Clinic Cats & Dogs - Panda Edition NS
Psychonauts 2 PS4, Xbox (XGP)
World of Outlaws: Dirt Racing XBN
29th
Bassmaster Fishing 2022 NS
Martian Panic NS
Mozart Requiem PS4
Pathfinder: Wrath of the Righteous PS5, PS4, ONE
Valkyrie Elysium PS5, PS4
Valkyrie Profile: Lenneth PSN
30th
Airoheart PS5, PS4, Xbox, NS
Alwa's Awakening & Cathedral EC
Bunny Park PS5, PS4, Xbox, NS
The C64 Collection EC
Cobra Kai 2: Dojos Rising PS5, PS4, Xbox
Demon Throttle NS
FIFA 23 PS5, PS4, XSX, ONE, PC, GS
FIFA 23 Legacy Edition NS
The Legend of Heroes: Trails from Zero PS4, NS
Lawn Mowing Simulator PS5, PS4
Lemon Cake PS5, PS4, Xbox, NS
Let's Build a Zoo PS5, PS4, Xbox
Maneater Apex Edition PS4, Xbox
Martian Panic NS
Paw Patrol: Grand Prix PS5, PS4, Xbox, NS, GS
Slime Rancher: Portable Edition NS
Souldiers PS4, NS
Squish NS
Sword Art Online Alicization Lycoris NS
Them's Fightin' Herds PS5, PS4, Xbox, NS
Trek To Yomi PS5, PS4
Willy Jetman: Astro Monkeys Revenge NS
Willy Morgan and the Curse of Bone Town PS4, NS
A lot of games this month, as we do see a few ports to current gen and the annual sports games, which I'm not that bothered about.
What I am bothered about is Splatoon 3 which I've had pre-ordered for ages digitally as I really want to get into the multiplayer, DioField Chronicle which I will get on Switch (Anyone played the demo?) and keep the run of Square games going, then that continues on PS4 with Valkyrie Elysium.
Now there are a few maybes like Steel Rising depending on reviews. The Last of Us Part I is something I'll get one day. Rhapsody: A Musical Adventure I would like to play but not fussed about the other NIS Classic game to spend £40 on a collection which I only want to play half of it. Life is Strange I may get for my ever-growing Switch collection as I've never actually had it physically, yet I do have them both on Stadia if I want to just play them.
I do also have a feeling we will see the physical release of Bayonetta 1 this month, as I would think it comes out before Bayonetta 3.
Anyway, what about you guys?